COVID-19 update:

The Clubhouse facility is closed until further notice but we are still answering the call and opening the Red Door through virtual support.
---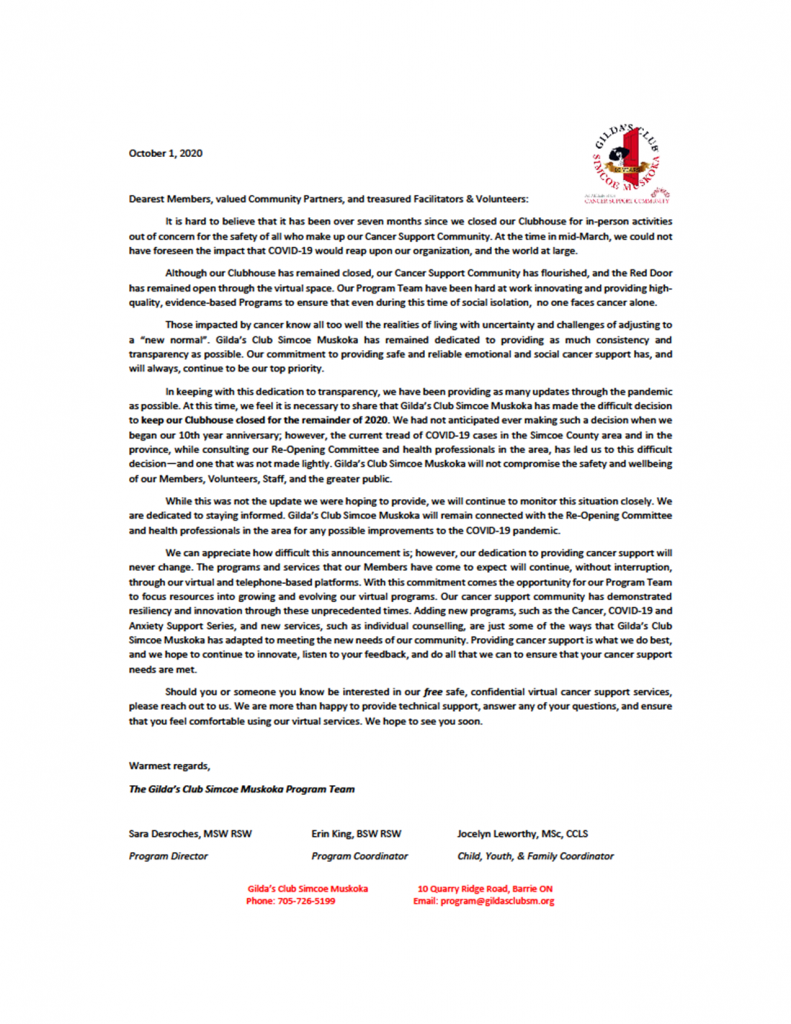 —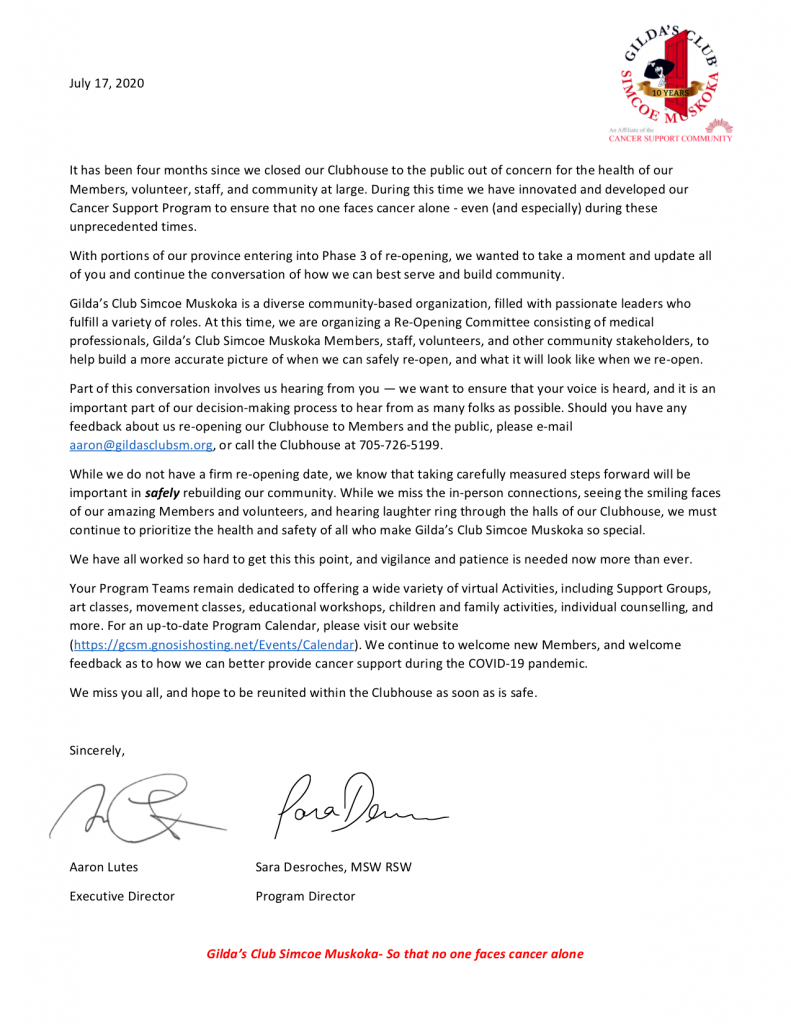 —
Please review our "A Return to Building Community" document that helps to illustrate a framework of how our re-opening will progress. We are always open for your questions and feedback.
—
July 9, 2020
As our region begins to loosen restrictions, it is important for us to do our part in mitigating the ongoing risk of contracting and spreading the COVID-19 virus, and to protect our members, volunteers and staff.  LINK to Facility Update — Further details about opening our doors is hopefully to come in the near future.
—
May 27, 2020
As we head into our third month of having the Clubhouse closed to the public, the Program Team at Gilda's Club wants to provide you with an update.
There was no way we could have predicted the impact COVID-19 would have on the Simcoe Muskoka community and beyond. We also know that cancer stops for no one (and no virus), which is why we have remained committed to offering virtual cancer support to anyone impacted by cancer, free of charge, throughout the Coronavirus crisis.
We continue to increase our virtual program activity offerings daily, ensuring our Members stay connected to us and each other through movement classes, support groups, socials, and informational lectures through Zoom. To see our current offerings, check out our live calendar here  CALENDAR Groups and sessions for children, youth, and families continue to be offered. We remain open to your feedback, eagerly listening to what you need from your cancer support community, and making adjustments accordingly.
We want to assure you that we will not slow down. The need for cancer support has never been greater than it is today, while isolation, fear, and anxieties become ever increased due to COVID-19. While we do not know when we can re-open our Clubhouse to the public, we remain "open" virtually, while working from home—and remain committed to doing so until the day our Red Door opens once again.
Gilda's Club Simcoe Muskoka continues to warmly welcome new Members. If you would be interested in membership or knowing more about what Gilda's Club has to offer, please call 705-726-5199 or email program@gildasclubsm.org We remain committed to providing our evidence-based Program of free cancer support. We continue to answer phone calls and e-mails.
Gilda's Club Simcoe Muskoka remains dedicated to ensuring that no one faces cancer alone.
Ever yours, the Program Team at Gilda's Club Simcoe Muskoka.
—